Direttamente dal Brasile, una delle flyer del Team Brazil Coed più brave di sempre! Una coach e un'atleta di grande ispirazione per tutti noi, che ha aiutato la sua nazione a raggiungere vette altissime! In questi giorni è ad Orlando con la sua Nazionale come tanti nostri atleti italiani e oggi abbiamo deciso di intervistarla: vi presentiamo Luiza Carvalho Brasiel!
1. Where are you from and how old are you?
I'm from Brazil, and I have 22 years old.
Da dove vieni e quanti anni hai?
Vengo dal Brasile e ho 22 anni.
2. How did you know All star cheerleading and how did you start this sport?
A friend of mine, with whom i used to practice diving with, told me about cheerleading when I stopped to practice diving. So we start cheer together and I felt immediately in love with this sport.
Come sei venuta a conoscenza del cheerleading all star e in che modo hai iniziato a praticarlo?
Un amico, che si allenava insieme a me nel diving, mi ha detto dell'esistenza del cheerleading proprio quando avevo appena smesso diving. Quindi abbiamo iniziato cheerleading insieme e mi sono innamorata subito di questo sport!
3. Is cheerleading in Brazil a well known sport? Are there stereotypes about our sport?
Unfortunately Not! Now the situation is improving, but it isn't a popular sport. Many people imagine cheerleading as american movies, with pom and cheer for a football team.
Il cheerleading in Brasile è molto conosciuto? Ci sono stereotipi sul nostro sport?
Sfortunatamente non è molto conosciuto. Ora la situazione sta migliorando, ma non è sicuramente uno sport popolare. Molte persone immaginano il cheerleading come lo vedono nei film americani, con pom pons e tifo ai team di football.
4. How old were you when you started cheerleading and how long have you been cheering for?
I started cheer at 18 years old. I have been cheering for 3 years.
Quanti anni avevi quando hai iniziato cheerleading e da quanto lo pratichi?
Ho iniziato a 18 anni e lo pratico da 3.
5. What have been your programe for this season?
This year I'm the coach of some cheerleading team from my city: Level 4 coed, level 3 all girl and level 2 coed.
Cosa stai facendo per questa stagione sportiva?
Quest'anno sono la coach di alcuni team della mia città: coed livello 4, all girl livello 3 e coed livello 2!
6. Favorite part stunt of stunting?
Double or triple base, of course ♥
In che modo preferisci fare stunt ?
Double base o group stunt ovviamente ♥
7. Have you ever gone to a camp in other countries with international coaches?
I went to a camp in Brazil, with Constantin Stalzer as coach.
Hai mai partecipato a un camp all'estero o con coach stranieri?
Sono andata a un Camp in Brasile con Constantin Stalzer come coach.
8. Do you prefer working on partner stunt or group stunt? Why?
Group stunt because i think that in this way it is possible to explore the motions and news skills. Partner is like a "robot", without motions, but is impressive cause is hard and incredible how the bases can make a lot of skills ALONE, by their self.
Preferisci lavorare in partner stunt o in group stunt? Perché?
In group stunt perchè penso sia più facile sperimentare nuovi elementi e motions. Il Partner Stunt è più , come un robot… Nonostante ciò è davvero duro e impressionante!É incredibile come una singola base può fare tutti quelli elementi da sola, senza nessun altro.
9. How often did you use to train? How many hours of practice per week? Give us an example of a common practice!
3 or 4 times per week for 4 hours, I use to train double base and single base.
Quanto spesso sei solita allenarti? Quante ore ti alleni a settimana?
3 o 4 volte a settimana per 4 ore, normalmente mi alleno in double base e in partner stunt!
10. Do you practice at home?
Only stretching and abs! I'm in love with abs, if I can, I will do it everyday hahahaha
Ti alleni anche a casa?
Faccio solamente stretching e alleno gli addominali! Amo fare addominali, se potessi li farei ogni giorno!
11. Stretching should be always a flyer's best friend! Unfortunately, in our country too, many flyers don't do it! How hours of stretching did you use to do? Can you give a stretching tip to all the flyers?
In Brazil many flyers don't do it too 🙁 Unfortunately, I don't spend a lot of hours stretching, but I try my best! I do it 4 times per week, for 20 minutes. I like to stretch with my friend, we can help each other and it works better!
Lo stretching dovrebbe essere sempre il migliore amico di una flyer! Sfortunatamente nel nostro paese molte flyers non lo fanno! Quante ore di stretching fai solitamente? Riusciresti a dare un consiglio a tutte le flyers?
Anche in Brasile molte flyers non lo fanno 🙁 Sfortunatamente, non spendo molte ore a fare stretching ma cerco di fare il mio meglio! Lo faccio circa 4 volte a settimana, per 20 minuti. Mi piace fare stretching con i miei amici, ci aiutiamo a vicenda e lo facciamo meglio!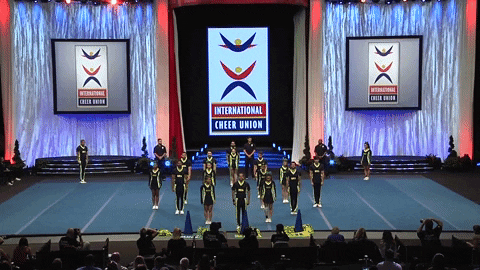 12. Cheerleading is an amazing sport but at the same time it's really dangerous. Do you agree with it?
Yes, you should pay attention at every practice! There's no time to play. There are many dangerous moves and any distraction can hurts the flyers or bases.
Il cheerleading è uno sport fantastico ma allo stesso tempo è piuttosto pericoloso. Condividi questa affermazione?
Si, bisogna prestare attenzione a ogni allenamento! Non c'è tempo per giocare. Ci sono diversi elementi pericolosi e ogni distrazione può infortunare una flyer o una base.
13. Are you coaching or just being an athlete? What are your future plans about that?
I'm coach of a Level 2 coed, Level 4 coed and Level 3 All Girl! I really want to be a cheerleader for the rest of my life, I can't imagine my life without it. My dream is to be the owner of a Cheerleading Gym and help many athletes <3
Sei anche un coach o solamente un'atleta? Quali sono i tuoi progetti futuri?
Sono coach di un Lv2 coed, Lv4 coed e Lv3 All girl! Mi piacerebbe davvero essere una cheerleader per sempre, non potrei immaginare la mia vita senza! Il mio sogno sarebbe diventare la proprietaria di una palestra di cheerleading e aiutare molti atleti <3
14. Have you changed many Teams or Gyms?
No, never.
Hai mai cambiato squadra o palestra?
No, mai.
15. Do you prefer all girl or coed division? Why?
Both!!! But for me, all girls team have a different energy! The girls are always helping each other, they are like big sisters and they always putting themselves up.
Preferisci i team All Girl o i Team Coed? Perché?
Entrambi però secondo me le ragazze hanno una energia differente! Le ragazze si aiutano sempre a vicenda, sono come delle sorelle e si incitano sempre!
16. What do you think about Italian cheerleading and Italian cheerleaders?
I really like them, I met Alberto Pisani and Elisabeth Marchesini at Worlds! They are both amazing cheerleaders! I can see how they love this sport, and how they are motivated to improve italian cheerleading. Italian cheerleader are pretty good!!! I would like to have the opportunity to practice with you all, guys!!
Cosa ne pensi del cheerleading italiano e dei cheerleaders italiani?
Mi piacciono molto, ho incontrato Alberto Pisani e Elisabetta Marchesini ai mondiali! Sono entrambi dei fantastici cheerleaders! Si percepisce quanto amano questo sport e come sono motivati a migliorare il cheerleading italiano!I cheerleaders italiani sono piuttosto bravi! Mi piacerebbe allenarmi con tutti voi ragazzi!
17. Does Cheerleading in Brazil cost a lot of money?
Oh my God, yes!! We don't have anyone to help us with the cost for worlds, nationals… For this reason we lost many good athletes.
I am sure that when cheerleading become an Olympic sport, this situation will change. Finally we will not lose any good athletes for this reason.
Il cheerleading in Brasile è molto costoso?
Oh mio dio, si! Non abbiamo nessuno che ci aiuti con i costi dei Mondiali, dei Nazionali… Per questa ragione molto spesso si perdono buoni atleti. Sono sicura che quando il cheerleading diventerà sport Olimpico questa situazione cambierà. Finalmente non perderemo più cheerleaders per questo motivo.
18. How was your experience at Worlds 2017?
Pretty good! Worlds are always a good experience! We met a lot of cheerleaders from many countries, it's a great cultural exchange. We learnt tips thanks to different athletes from all over the world! I can't explain, you should to go to worlds to prove this feeling!
Come è stata la tua esperienza ai Mondiali 2017?
Molto buona! I mondiali sono sempre una bella esperienza! Abbiamo incontrato un sacco di cheerleaders da paesi diversi, è stato un fantastico scambio culturale. Abbiamo imparato tanti consigli grazie a diversi atleti provenienti da tutto il mondo! Non si può spiegare, bisogna andare ai Mondiali per capire le emozioni che si provano!
19. Would you like to came back to visit Italy and maybe do some cheer camps?
Sure!!! Italy is my heart country ♥ I really like to came back this year, but I don't know if it will be possible. A cheer camp with italians cheerleaders would be certainly a great experience! I can't explain how I love your country and how I will be happy to be with you all in some cheer camps!
Ti piacerebbe tornare a visitare l'Italia e magari farci qualche camp di cheerleading?
Assolutamente! L'italia è nel mio cuore! ♥ Mi piacerebbe un sacco tornarci quest'anno, ma non so se sarà possibile. Un camp con i cheerleaders italiani sarebbe un'esperienza meravigliosa. Non so spiegare quanto io adori il vostro paese e quanto mi piaccia l'idea di essere con voi in un camp!
20. What has been your goal for this season?
I would like to have a full level 5 tumbling! I learned to do full, but I have to improve it. I want to improve my kick double too and finally get a rewind full which is my main goal.
Quali sono stati i tuoi obiettivi per questa ragione?
Mi piacerebbe avere il full del tumbling Lv 5! So già fare il full ma vorrei migliorarlo. Vorrei anche migliorare il mio kick double e finalmente avere un rewind full che è il mio obiettivo principale.
21. Have you ever tried some other position? Did you enjoy it or would you enjoy to try basing/ backspotting ?
Yes! Last year I was a base on All Girl Lvl 2! It was amazing, but I can't do it anymore because I have a shoulder injury .
Hai mai provato o vorresti provare altri ruoli ? Ti è piaciuto?
Si! L'anno scorso ero una base in un team All Girl LV2! É  stato fantastico ma purtroppo ho smesso per un infortunio alla spalla.
22. Are you excited for Worlds 2018? What are your predictions? Will team Brazil hit zero?
Of course I do!!!! We want to hit zero and we are working for that! We would like to be on 7 position, last year we were on 11!
Sei emozionata per i Mondiali? Quali sono i tuoi pronostici? Il team Brazil farà zero deduzioni?
Certo che si! Vogliamo fare Hit Zero e stiamo lavorando duramente per raggiungere questo obiettivo! Ci piacerebbe posizionarci almeno al 7 posto, l'anno scorso eravamo all'11!
23. What is the best advices, both technical and mental, that you would give to a flyer?
First of all, flyers should work on their body awareness: it's pretty important! A flyer must know herself. For me, abs are very important, and they help a loooooot with full downs! Trust your bases, they will help you and put you up, literally. If you are afraid to make a particular move, remember that no one would put you to train if you are not able to. Trust yourself, your coaches and your bases. The Backspots will always be there to save you.
Qual è il miglior consiglio, sia tecnico che mentale, che daresti a una flyer?
Prima di tutto una flyer dovrebbe lavorare sulla conoscenza del proprio corpo: è molto importante! Una flyer deve conoscere se stessa. Per me gli addominali sono davvero importanti e aiutano moltissimo con le discese! Fidatevi delle vostre basi, vi aiuteranno e vi tireranno su sia il morale che voi, letteralmente. Se avete paura di un particolare movimento, ricordatevi che nessuno vi costringerà a farlo se non siete pronti. Fidatevi di voi stessi, dei vostri coaches e delle vostre basi. I backspots saranno sempre lì per salvarvi.
24. Did you meet Team Italy at Worlds 2016 and 2017? Do you have any good memories about that?
 2017, I guess! Yes, they have a really good energy. Wait, have some brazilian guy on Team Italy, right? lol hahahah
Hai incontrato i Team Italia durante i Mondiali del 2016 e del 2017? Cosa ti ricordi di loro?
Si, penso nel 2017! Avevano davvero una bellissima energia! Nel team Italia dell'anno scorso c'era anche un ragazzo brasiliano o sbaglio? ahahha
25. Say bye to everyone who is reading
This sport is incredible and amazing! I can live without it.
I hope that everybody will find his passion, and i hope it will be cheerleading in order to inspire more and more people to be part of our cheer world. If you want to go to Brazil, my team is @brasiliaxtreme and we will always be there for you all! I hope I will have the opportunity to go to Italy and do a camp with all of you!
Saluta i nostri lettori!
Questo sport è incredibile e meraviglioso e non saprei vivere senza. Spero che ognuno trovi la sua passione nella vita e spero che questa sia il cheerleading, per poter ispirare sempre più persone a far parte del nostro mondo! Se volete venire in Brasile, il mio team si chiama @brasiliaxtreme e ci saremo sempre per accogliervi! Spero di aver presto l'opportunità di fare un camp con voi!
---
We want to thank a lot this amazing girl! She is so kind and nice! Thank Luiza for sharing your experience and knowledge about cheerleading with Italian athletes! We are so happy for this Interview; we love collaborating with amazing athletes from all over the world!
Follow this sweet girl and her squad on her instagram account :
Thanks for reading ! Discover other articles on Cheerlitaly.com ! You can translate our articles and know more about Italian cheerleading!
Noi di Cheerlitaly ringraziamo immensamente Luiza per la sua disponibilità a farci scoprire il cheerleading brasiliano e quanto questo sport le abbia insegnato! Grazie infinite per la gentilezza e la passione che ci hai trasmesso! Speriamo di poter avere presto Luiza in Italia.
Vi invitiamo a seguire lei e la sua squadra su tutti i social:
Grazie per la lettura, e se non l'avete ancora fatto, scoprite tutte le altre nostre interviste italiane cliccando qui !